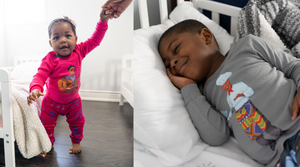 Encourage. Empower. Represent.
Indy Mindy is a brand born out of a love for children. We focus on messaging and imagery that encourages, empowers, and represents Black children.
About
In 2020, Deborah Vassell went to Walmart looking for PJs for her nieces. As a Black woman, and having Black nieces, Deborah wanted PJs that represented the young girls and their family. Searching through racks of clothing, she couldn't find a single pair of PJs with Black characters or designs. While the shopping trip was unsuccessful, she didn't leave empty handed. It inspired Deborah to build a brand made for Black children.
Driven to see representation in children's clothing, Deborah got to work. In 2021, Deborah met Tajia Niles, at a pop-up! The two connected instantly, and both began working on Indy Mindy. In January 2022, Tajia officially became joint owner of Indy Mindy! Tajia is a mom of 4 and is passionate about educating and empowering Black children. Together, these two Black women are the heart and soul of Indy Mindy. They strive for excellence in everything they do and are dedicated to seeing children win.
Shop Now
Family Friendly Pajamas
Here they are! The pajamas you've been waiting for! An Indy Mindy original, available in size 2T-7Y.
These PJs are fun, comfy, and cute!
See more!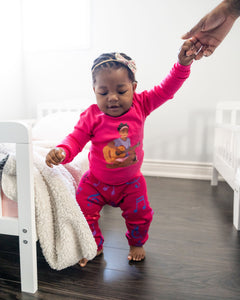 Introducing Pajamas for Adults
You asked and we listened! Here they are, and even more are coming soon. Say goodbye to uncomfortable nights and hello to cozy evenings with our comfy adult-sized pajama sets. Designed with the same attention to detail as our beloved kids' pajamas, these are perfect for unwinding after a long day or lounging around on lazy weekends. Embrace the comfort you deserve, because relaxation knows no age! Explore our new adult pajamas and rediscover the joy of bedtime.
Top picks
Latest Products
---
I really appreciate the brand and what it represents. I have a bought a few pieces for friends and family and they love the quality of the clothing. The priced are also very affordable which is great. Love the clothing and I will definitely continue to buy from here
Ruth K.
Love the outfits and definitely will purchase in the future... looks so neat and clean and on point... 😍
Veena J.
Excellent business with great customer service! A lot of cute clothes for the kids plus I love the idea of Children's clothes designed to empower kids of colour 👍🏾
Daron A.
Love this company! I can't wait for some Christmas shopping and supporting an amazing local business! Keep up the great work ❤️
Courtney C.
I purchased a few onesies and a couple of pyjamas from IndyMindy and was glad. The quality was very good and was completely up to my expectations. The service was quick and needles to say, my grandchildren loves them. I highly recommend IndyMindy both for quality and service.
Peter V
Indy Mindy is amazing! First off, it's really intentional as a brand - ensures that the children can have representation! If you're also looking to shop Black owned, this is a perk! My niece has some of their PJs and they're so adorable!
Naomi KT
Love love LOVE this brand! More importantly my little girls love their PJ's. My oldest daughter always wears the black doctor PJ's and now wants to be a doctor at the young age of 6! lol :D

Thanks again!
Lisa L.
Love that there is a brand empowering children of colour with their inspirational designs!
The designs are unique and adorable and the clothing is great quality. The owner is lovely and quickly responsive. Will definitely buy more items from this store in the future !
Shaneice A.
About the Brand
THE HEART BEHIND INDY MINDY
"I am a people person, and crazy extroverted. I say the first thing that comes to mind, and usually, that thought is complimenting someone else. I am definitely very approachable, so feel free to reach out, even if only to say hello!"
– Deborah V.
"I started Indy Mindy because I wanted to show Black children that their skin is beautiful. To show them that they can aspire to do anything and go anywhere. To make sure they feel empowered and encouraged, every single day."
– Deborah V.
Indy Mindy is a Canadian-based, Black-owned pajama clothing company whose goal is to represent and empower Black children. Unfortunately, Black people are often underrepresented in the media. Indy Mindy aims to show Black children in a different light – that they can be anything they want to be and do anything they want to do. The goal of Indy Mindy is to show that Black in fact, is beautiful!
- Deborah V.
"I started Indy Mindy because I saw the need for it. I was shopping for PJs for my baby nieces, and the only ones I saw had white characters on them. I don't want my nieces (or anyone else honestly!), to grow up thinking that being white is the standard of beauty. There is beauty in diversity."
– Deborah V.